Donations Welcome
Please help us by making a donation today. 
If you can help please do
or contact us at info@edithwilkinsfoundation.org, also see footnote below
Bag Packing Fundraiser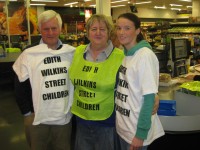 Many thanks again to everyone who came to came to do the recent bag pack in Cork.  This event involves 30 to 40 packers.  Thanks to all who contributed to the bag packing fund raiser. We have raised €3015.00 for the children.
Geneva Literary Aid Society support the Foundation – AGAIN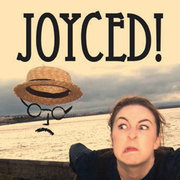 Geneva Literary Aid Society proudly presents:
A very special double bill: 
Donal O'Kelly with "Fionnuala" and Katie O'Kelly with "Joyced" 
Venue: The Aula, Collège des Coudriers,
15a Avenue Joli Mont, Geneva
When: Tuesday, September 24th at 19.00
The first features Donal O'Kelly who many of you will recall for his virtuoso performance of "Catalpa".
He has just taken the Edinburgh Fringe Festival by storm again with his new play "Fionnuala" which won stellar reviews, a Fringe First Award, a nomination for acting excellence and was shortlisted for the Amnesty International Freedom of Expression Award.
It's a marvelous and fantastic tale weaved around the true-life drama of the arrival of Shell in a small west of Ireland community with disastrous consequences.
"DELICIOUSLY EXUBERANT PERFORMANCE…" Financial Times
"MAGNIFICENT O'KELLY – ONE OF IRELAND'S MOST GIFTED WRITER-ACTORS… EVERY SECOND OF IT ENTERTAINS…" The Scotsman
"DON'T MISS" – The UK Stage
At last year's Fringe, his daughter Katie O'Kelly was nominated for best solo performer for her interpretation of her father's amazing tribute to James Joyce in "Joyced" which has toured the world and is now going to be performed in Geneva for the first time, answering many of the questions you might have about the legendary scribe whose final resting place is in Zurich.
Here's what the critics had to say about "Joyced".
"JOYCE'S DUBLIN COMES ALIVE UNDER DONAL O'KELLY'S TUMBLING PROSE AND KATIE O'KELLY'S FERVENT PERFORMANCE…" The Sunday Independent
"…THIS BLIZZARD OF IMAGINATION IS AN INDEPENDENT ACHIEVEMENT…" – the Sunday Times
"ONE OF THOSE PERFORMERS WITH TRUE STAGE PRESENCE…." BRITISH THEATRE GUIDE
Permanent link to this article: http://edithwilkinsfoundation.org/?attachment_id=3799
More photographs taken by the Children
The full exhibition and details of how to buy a photograph are shown in the dropdown menu above.