December 2022 Newsletter
As 2022 is drawing to a close, the Edith Wilkins Street Children Foundation (EWSCF) reflects upon one of the hardest years to date. New children have come to live in the foundation for protection and care, we have rehabilitated children back to their home, we have seen some of the worst cases of child abuse, we have navigated COVID and the struggles that came before and after. We have organised successful fundraisers and ran a number of appeals. We have renovated and expanded our boy's house. We were gifted a new four-wheel drive. None of which would have been possible without our fantastic donors. The EWSCF wants to thank each and every one of you for your continued support.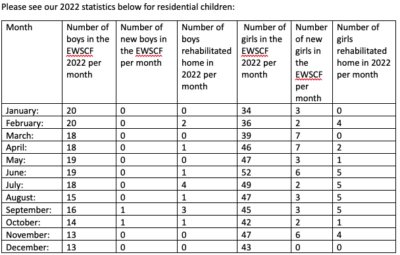 The EWSCF has seen a number of abuse cases in the last year. New Children who are now living in the foundation have experienced the following:
Child labour, Runaway Children, Orphaned, Abandoned, Mental abuse, Physical abuse, Sexual abuse including the gang- rape of a ten-year-old girl. For the first time ever a 20year Jail sentence was handed down. We saw an increase in the number of sexually abused Girls. Many of the new girls' number have been sexually abused including some brutal rapes, resulting in pregnancies.
The EWSCF continues to send Children to formal school, non-formal school (also known as our Drop-in Centre) and Pre-Vocational Training Course. We continue to place as many children as we can in education.
There have been hard times but there have also been some wonderful times in the EWSCF this year. We have celebrated Anti-Child Labour Day, the children have played lots of sports, the PVT class has made some incredible items, there has been music played, poetry competitions won and so much more! Please see some pictures below from the past year: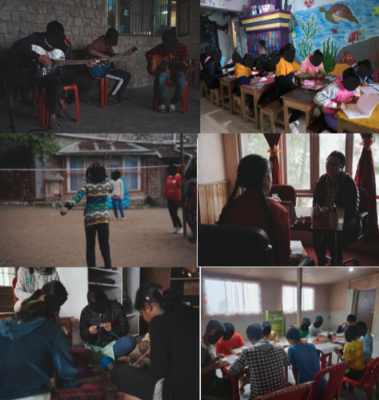 The EWSCF would like to thank its donors for their continued support and encouragement. The work that the EWSCF does in the Darjeeling region is vital, especially in the aftermath of COVID where countless children have been subject to various forms of abuse. Now our Boys home has better room we will be able to admit more boys from now on, which is wonderful.
We are now advertising our last fundraiser of 2022 – our Christmas Morning Swim. This event will take place at 11am on the 25th of December in Fountainstown beach (or whatever beach is closest to you!). We are hoping to raise funds so that we can buy new, warm clothes for the children. Darjeeling is at an altitude of 2,045m/ 6,709 ft above sea level and it gets very cold at this time of year. If you're not able to swim but would still like to come and support, please do! Please see the link below for donations – as always, every cent helps. 
Edith Wilkins Foundation – Christmas Swim – Donate Now!
Nollaig Shona Daoibh, Happy Christmas to you all. 
With love from the Edith, Anuja, Sally and all the Children xxx
Crosshaven to Drake's Pool Annual Fundraising Walk – 8th October 2022
What a wonderful day we had for the Annual Fundraising Walk from Crosshaven to Drake's Pool (and back)! The sun was shining and over 50 people turned out for the walk and everyone headed back to the Royal Cork Yacht Club afterwards for teas and coffee.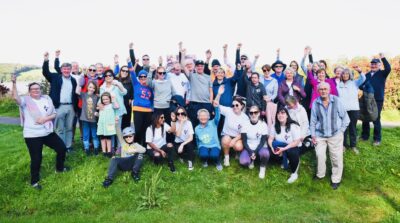 A huge word of thanks to everyone who came to support us and thanks also to Siobhan Russell for her wonderful photographs, Admiral Kieran O'Connell of RCYC and all the RCYC members. Thank you Bernard Lynch and Conor Middleton for supplying the beautiful and delicious scones and to everyone at Lynch's Centra Crosshaven.
We raised over €1,800 euro of much needed funds. Special thanks to Leo McMahon and all in the Carrigaline Mens Club who did great work getting Posters/Notices etc organised for us.
Run to help the children – 18th September 2022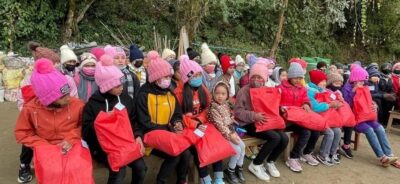 The Mini Marathon is coming up on Sunday 18th September – are there any runners out there? Let's run 6km for the children! Help us to make the lives of the children in India better.
Take part in this years Mini Marathon – send a message to us on social media (or use our Contact Us Page) and we will be thrilled to send you a t-shirt and some information on how we help the children (with your fund raising assistance)! Help us to give the children back their childhood.
To support our cause please set up your fundraising page using the "Start fundraising" button or make a Donation.
The Edith Wilkins Street Children Foundation India are now using Enthuse, a group that makes sure all donations raised go to the children.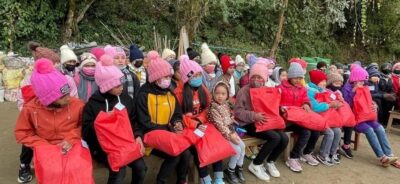 Take part in this year's The Echo Women's Mini Marathon 2022 and raise funds for The Edith Wilkins Street Children Foundation India. To support our cause please set up your fundraising page using the "Start fundraising" button or make a Donation.
EWSCF – Providing care, shelter and protection to street children, forced child labour and children who are trafficked in Darjeeling.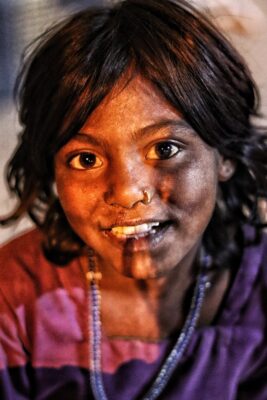 The Edith Wilkins Street Children Foundation, India is a not for profit organisation that provides care and protective support to street children, victims of abuse and sex trafficking, child labourers and other at risk minors.
Founded in 2003 by Cork born nurse Edith Wilkins, the foundation is based in Darjeeling, India. Due to the proximity of Darjeeling to the borders of Nepal, Bangladesh, and Bhutan, the town is a common route used by child traffickers when smuggling children into India. To date over 2500 children have come through our system in Darjeeling and presently there are over 500 children in the system.
5th August 2022
Finally – there is justice for our little one!
"Thank goodness that someone is listening to us! It's the biggest conviction that I've ever seen of a child rapist in Darjeeling. 20 year prison sentence handed down! It's a dreadful story and one that we experience all too often – however we are thankfully in a position to help these children who are innocent victims caught up in a cruel world!" Edith Wilkins of the Edith Wilkins Street Children Foundation.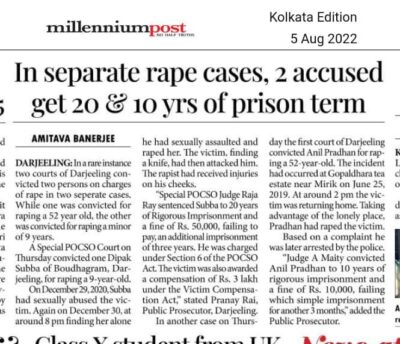 Darjeeling: In a rare instance two courts of Darjeeling convicted two persons on charges of rape in two separate cases…
Monday 13th June 2022
(LETS START MONDAY WITH A SMILE)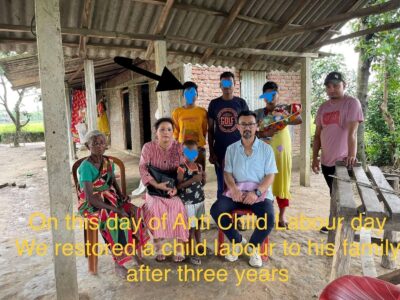 Yesterday was Anti Child Labour day.
Every year the Foundation does Anti Child Labour Rallies, awareness skills and awareness programmes are held all over Darjeeling district with other NGO's/Indian Government groups, the Police etc. Spreading the word of Anti Child Labour, the laws etc is crucial.
This year our wonderful Anuja went one step further, together with Anoop (a senior member of our staff) they travelled for over 8 hours, the timing of relocating this little boy to his home was incredible! Raja (name changed) had come to us over 3 years ago and the team could not find his family. They searched everywhere. When Raja was only 9 years of age, his Mum died and his Dad had mental health issues as a result of her death. A friend said he would take the child and look after him. Whilst Raja didn't suffer the extreme physical abuse most of our children do, he was never sent to school but he was made to work and was used as a Child Labour.
Some time ago they located his Dad however, the Dad subsequently lost his phone and all the contact details for us. The police etc got involved & yesterday on Anti Child Labour Day the team were able to return Raja to his Dad and his family. There is a lot of paperwork involved and the family had to prove their identity.
His Granny hadn't seen him for seven years and his father for over six years! There were tears all round as he was relocated yesterday with his family. What a happy day for everyone!
Huge congratulations to the team who never give up while trying to find children's parents. Well done to everyone!
One Happy little boy last night, he had been going to school with us and there's another school nearby so he will continue with his education. The staff will continue to support Raja and his family as he settles back into life and home with his beautiful family.
Fountainstown Christmas Swim
Well done to all of the brave people that took to the sea in the freezing cold on Christmas Morning in Fountainstown, Cork to swim in freezing conditions and to raise funds for the Children! Thank you to the swimmers and to all of the donors, well done to everyone particularly Sally, Ciara, Leo and all the friends and family! You are all amazing people and so brilliant to brave the elements!
White Christmas 2021
"Talk about amazing timing – the Tracksuits that the children got for Christmas were really an amazing gift! Thank You to all our Donors and Supporters. Darjeeling is 6700 ft above sea level and this is what they woke up to today (above)! Again so many thanks go to you our Donors" love from Edith, Anuja, Namrata and of course from all of our warm Children!
Christmas Day in Darjeeling 2021
Christmas Day – New tracksuits for all the children and Santa Claus came to town! Thank You to everyone for your support this Christmas – the children had a wonderful Christmas Day! Lots of love to everyone from every smiling little face above.
Christmas Eve
There was great excitement on Christmas Eve when our neighbour and friend (Yinchung and his son) treated the Children to a special meal of Burgers & Chips! The children were so thrilled and you can see from their smiling faces that they loved this surprise treat! So many thanks go to Yinchung and his family (who have just opened a new Restaurant in Darjeeling)! Thanks also goes to Dawa for organising – what a lovely treat for the Children!
Christmas Raffle Results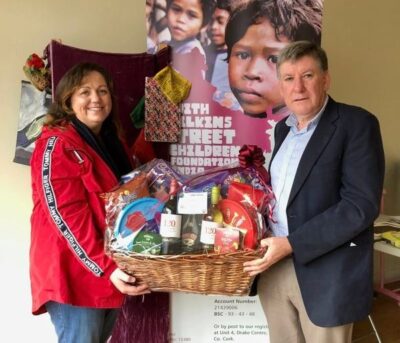 Christmas Raffle Results:
1st Prize – Hamper – Dorota Rosiska
2nd Prize – Seascape Oil Painting – Mary Moloney
3rd Prize – Wellness Hamper – Marie Doherty
4th Prize – Denby Place Mats – Mary Keelan
5th Prize – Wine – Patricia Vaughan
6th Prize – Vase – Paul Vaughan
Please message Edith re Pick up of your prizes
"Congratulations and a big Thank You to everyone that participated, we raised €935 euro towards our Childrens' Christmas Day! We are extremely grateful! There will be lovely warm children over Christmas as Santa is bringing them TRACKSUITS and some sweets!
We wish everyone a very Happy Christmas and would like to sincerely thank you for your continued support – we just couldn't do any of this without the amazing support we receive from everyone"
Love from Edith, Anuja, Namrata and all of the Children
Great Christmas Raffle for our children at the Edith Wilkins Street Children Foundation!
Let's help them have a lovely day and win some beautiful prizes at the same time. Huge thanks must go to the Cork Prison Officers for donating a wonderful Christmas Hamper as our 1st Prize and also to all our other very generous donors. Please Click on the link below and wishing the best of luck to you all www.idonate.ie/raffle/ChristmasforourChildren
---
Child Rights Week – Nov 2021
November 22nd was the last day of Child Rights Week so the children performed for the Women's Police Station in Darjeeling. Afterwards, they had lovely Indian sweets & snacks.
Edith said "I look at the size of these little mites & wonder HOW just HOW do people Abuse & Make them work, they're pure babies …"
A New Jeep Arrives – Nov 2021
Such wonderful news that there is now a new Jeep for the Edith Wilkins Street Children Foundation thanks to three very generous donors! The old jeep was over 20 years old and not safe to drive regularly or for anything besides short trips locally. We are feeling very grateful right now for this amazing gift.
Here is just a few ways the new Jeep will benefit the work of the foundation:
This new Jeep will safely transport vulnerable children to and from the foundation on a regular basis, and in cases of emergency such as hospital visits, across the tough hill terrain.
This Jeep will facilitate the safe transportation of staff conducting surveys of the local communities and when carrying out home visits of rehabilitated children.
This wonderful new Jeep will provide transportation for the monthly groceries and other supplies when required.
The Jeep allows for further surveying, rescues, follow ups to be conducted.
This Jeep will aid many of our community outreach projects such as the distribution of emergency covid and food relief package.
The Jeep will have many benefits for the foundation with the above just being a few examples of these benefits that will aid the foundations mission to save, care and protect the vulnerable children of Darjeeling and its' surrounding area.
Please see the donation link for the foundation if anyone would like to contribute or share especially with Christmas coming up:
Emergency Appeal – Updated 26th October 2021

Cork based Edith Wilkins Street Children Foundation have launched an EMERGENCY APPEAL to support their street children's support programs as COVID19 continues to wreak havoc across India.
The humanitarian organisation has been working with local authorities and other local NGO's in north Eastern India to support thousands of vulnerable families, with basic food aid and hygiene kits for the last 18 months.
But the added requirements of Covid have been a significant burden on the foundations funds, which are now perilously low. We urgently need to raise €30,000 euro to keep our children's homes open and safe for the next 3 months.
Covid restrictions here in Ireland have meant fundraising opportunities have been limited.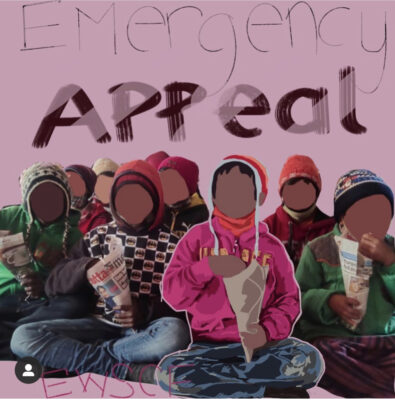 Food, shelter and protection is what our programs offer the children here, most of whom are victims of sexual and physical abuse, human trafficking and child labour. Schools remain closed, but open online. The majority of Indian children in slums do not have online access. There has been a HUGE drop in children attending classes and a large increase in children getting roped into drugs and the sex trade. The rate of abuse has rocketed and there has been a notable increase in children being admitted to our homes.
Founder Edith Wilkins is increasingly worried about what will happen to these children if the programs are restricted due to funding shortages.
"My biggest concern is that more and more children will get caught up in this, if we cannot give them the support they need and deserve. Our children's lives are in actual mortal danger if we cannot continue. I'm so scared for these little mites … they have done nothing wrong."
Another significant problem is the increase in orphans post Covid. Many children's parents will have migrated to the cities to keep their families safe in the slum's villages pre Covid.
With much of the country in full lockdown many parents didn't make it home and perished where they were desperately trying to eke out a living to send money home, to keep their children from starving.
Our funding over the last 20 months has kept people alive and children safe in areas where we have been working:
€10 euro for blankets
€20 euro for basic healthcare per month
€30 euro to feed a child for a month
€50 euro to cloth a child
Our electricity bill for both our homes comes to approximately €175 euro per month.
Our Counsellors who provide critical psychosocial support for our children or the carers and house parents, costs €250 euro a month.
This keeps our children in our homes safe, warm and nurtured, and above all, protected and loved, and they are just allowed to be children.
Contact us at Edith Wilkins Street Children Foundation India, Unit 4, Drake Centre, Carrigaline, Co. Cork
Please donate directly to our account "Edith Wilkins Street Children Foundation India Ltd" (Charity Number 15380) at AIB Bank (NSC 934348) Account number 21439006.
You can read more or follow us on:
We only just stayed afloat and our childrens' homes only remained open during the past 18 months due to the publics' generosity!
Our team have supported over 3000 people throughout the community and also our childrens' homes with essential Food and Hygiene packs and literally kept all of those families alive!
We can never thank YOU enough, HOWEVER, once more our homes are running full throttle and we need to find funds for our running costs for the next 3 months!
We are praying that we will be able to get a set of clothes for all of our children, particularly for the upcoming Pujas (an important cultural ceremonial worship).
Every single euro adds up folks, please keep sharing and thank you from the bottom of our hearts – Edith, Anuja, Namrata and all of the children
Newsletter – September 2021
18 months later, thousands of people have been helped and we are still going strong, thanks to your generosity… read more
Covid 19 Appeal – May 2021
Update – 19th May 2021 – from Darjeeling:
So our amazing Anuja & Anju worried about the newly announced lockdown distributed rations to Daily Labourers from Anujas house, Great Sunday Mornings work well done to them all:
Another huge Thank You to all our donors, as our team in India help provide material for another much needed Covid Centre for the poor in Darjeeling – a place where people can isolate safely, something impossible to do in a one roomed house they share.

Extending a helping hand to a noble venture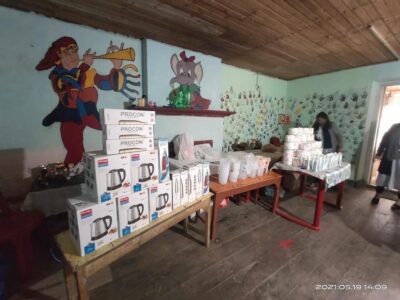 by : Amitava Banerjee
Darjeeling, May 19, 2021: "One of the most important things you can do is to let people know that they are not alone" was the message that the children and staff of the Edith Wilkins Street Children Foundation (EWSCF) wanted to get across to the Jesuits for their noble endeavour.
Strengthening the bond between the Jesuit institutions and the Edith Wilkins Street Children Foundation (EWSCF,) children and staff of the Foundation extended a helping hand to the "Sursum Corda Covid-19 Care & Relief."
The "Sursum Corda Covid-19 Care & Relief" an outreach programme run by the Jesuits and Alumni includes a Covid-19 isolation centre. The programme has been taken up on the wake of the second wave of Covid-19 that has thrown the whole country out of gear.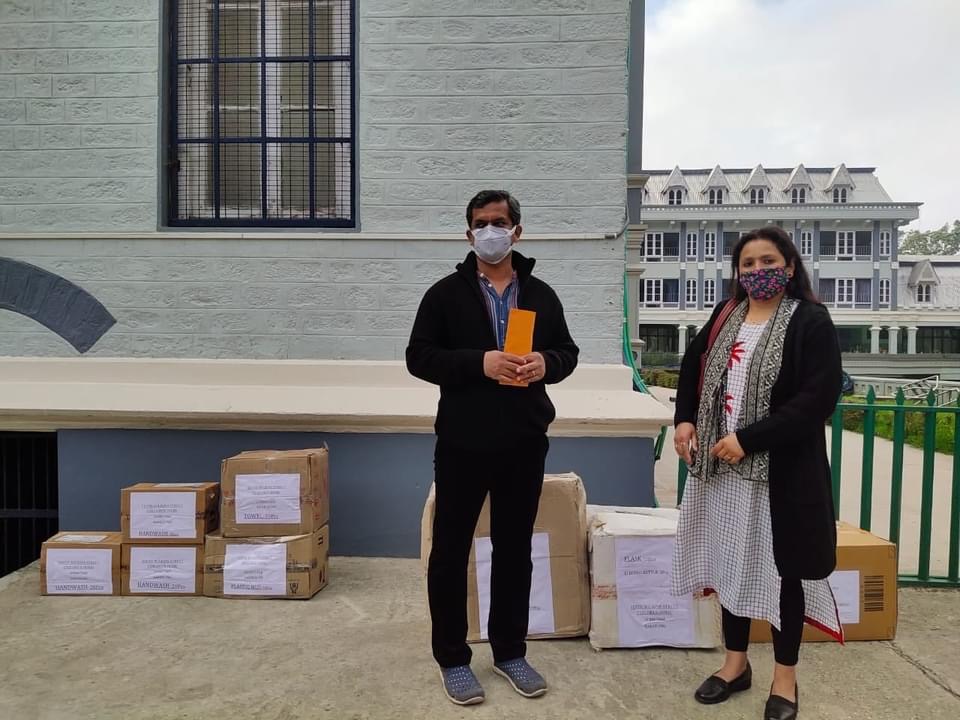 The 50 bedded isolation centre, set up at the Campion Hall of the St Joseph's College, Darjeeling, is for both males and females who have mild symptoms.
Along with the isolation centre, the programme includes tele-consultation with doctors; Supply of medicines and medical equipment along with providing nutritional supplements and food.
"The Jesuits have always been a very strong support for the foundation. They have time and again helped our children with rations, books, and stationary. The students of St. Joseph's school comes to the centre for social visits. Our children perform and stage shows during winter camps organized by the school. As we share a very strong bond with them, we too wanted to be a part of the noble venture and help in any way we could," stated Anuja Ghalay, Director, EWSCF, India.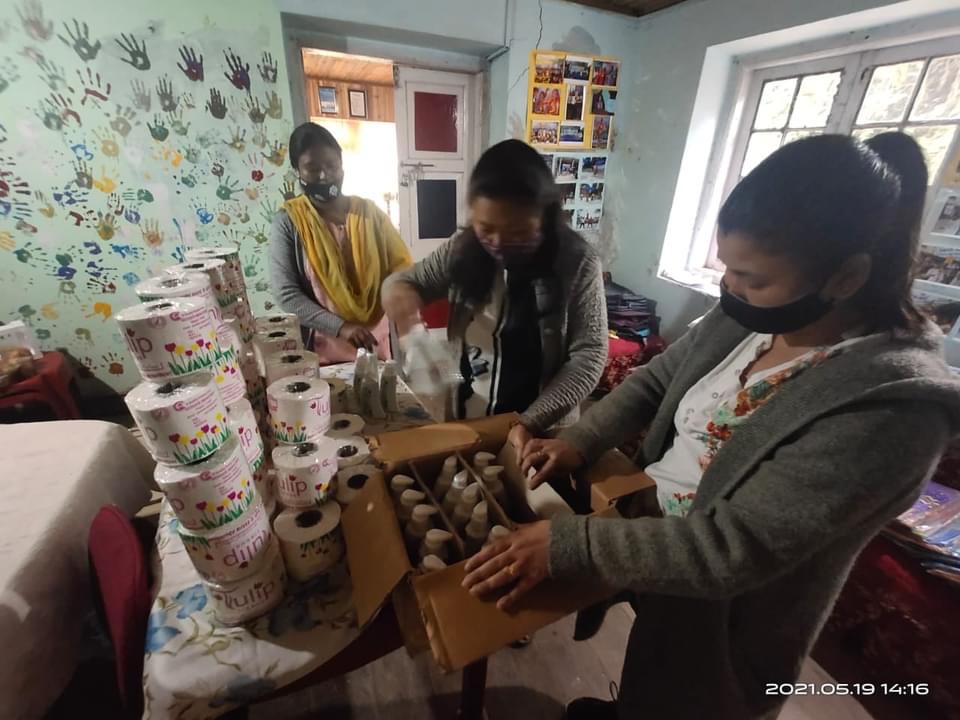 Incidentally the Edith Wilkins Street Children Foundation (EWSCF), a not for profit organisation (Cork based), provides care and protective support to street children, victims of abuse and sex trafficking, child labourers and other at risk minors. There are more than 200 children being taken care of by the foundation.
The staff of the EWSCF decided to pool in money and buy things that could be used in the isolation centre. "The relief list included 10 thermos flasks; 5 electric kettles, 50 bed covers; 50 pillow covers; toilet paper; handwash; 50 plastic mugs and 50 towels. We procured the items and packed them," added Ghalay.
Even the EWSCF children were not to be left behind. "When they heard of the isolation centre, they decided to prepare wall hangings with positive messages. They spent days preparing the goodwill messages that they feel will help lift spirits of the inmates at the isolation centre" stated the Director.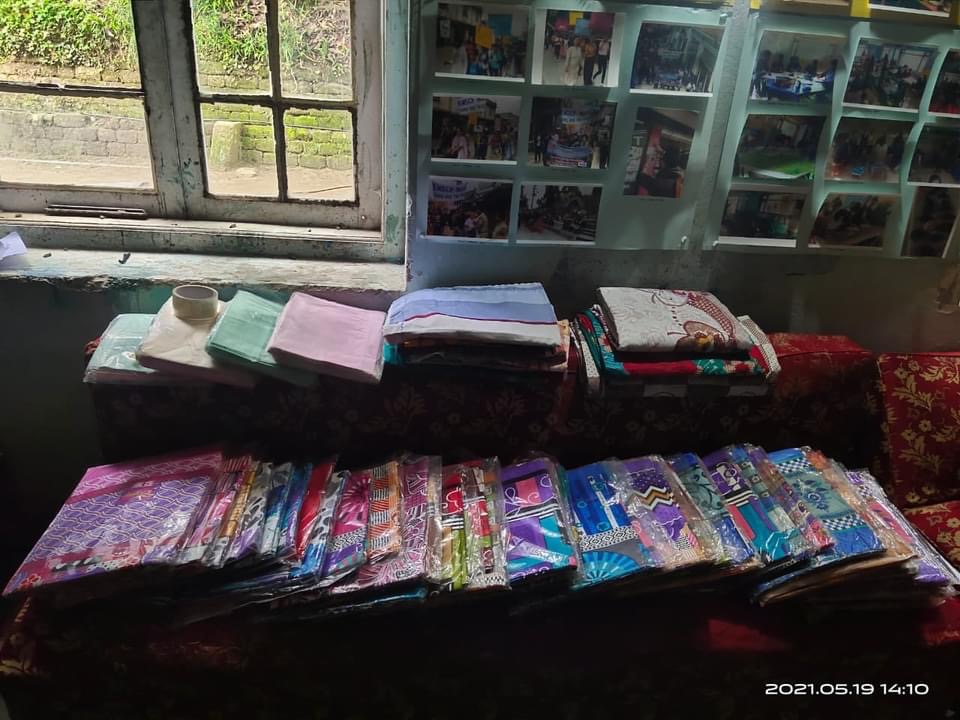 The EWSCF staff handed over the relief material to Rev. Father Stanley Varghese, Rector, St. Joseph's School, North Point, Darjeeling on Wednesday, a day ahead of the inauguration of the Isolation centre.
"EWSCF Staff and Children were kind enough to support the cause. With this we will be able to provide extra bed covers and pillow covers to the patients. We thank the staff and children of the Foundation" stated Father Stanley.
Update 10th May 2021 from Darjeeling:
Battling the second wave – distribution of relief material is being organised by Amitava Banerjee: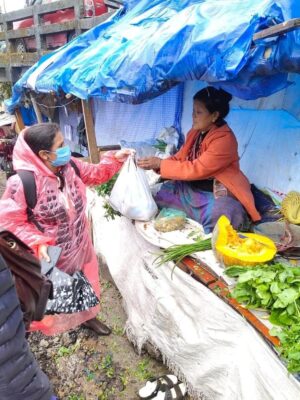 The Pandemic, surging Covid-19 cases and deaths coupled with inclement weather have not been able to deter them. The urge to serve has resulted in the Edith Wilkins Street Children Foundation swinging into action distributing dry rations among the less fortunate and vulnerable in the hill town.
The Edith Wilkins Street Children Foundation (EWSCF) a not for profit organisation (Cork based), provides care and protective support to street children, victims of abuse and sex trafficking, child labourers and other at risk minors. There are more than 200 children being taken care of by the foundation.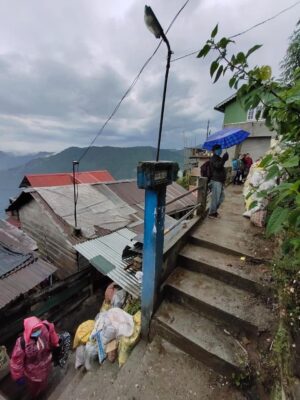 With the surge in Covid-19 cases and the ongoing Pandemic induced partial lockdown in the second wave, the situation is bleak throughout the country and specially in this far flung hill station with a skeletal health care system.

"Along with providing care and protection for children, we decided to extend our help to the economically backward section of the community. In 2020 also with the lockdown we had distributed rations, medical kits and other essential commodities in and around Darjeeling town" stated Anuja Ghalay, Director, EWSTF, India.

The biggest challenge was funds to sustain these projects during the Pandemic when the world is reeling under financial crisis. However, owing to the generosity of the patrons and well wishers, the initial hurdle was overcome.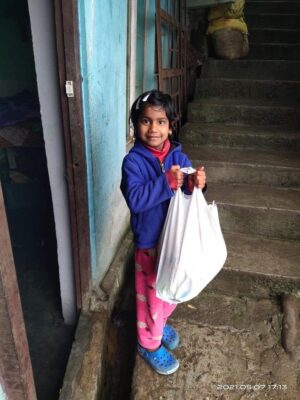 "Our target is to distribute aid to 750 families (around 3000 people approximately). It was decided that each family will be receiving two bags. We appeal to our donors to continue supporting us," stated Edith Wilkins, Overseas Director.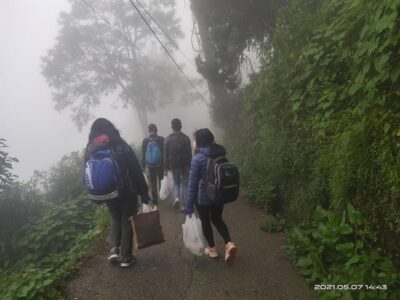 The team in Darjeeling then started packing the procured relief material.
Covid package 1 or bag one contained Medicated body soap; Cloth washing powder and soap; Hand sanitizer; Toothpaste; Sanitary towels; Floor sanitizer and tissue papers.

The Covid package 2 or food packages contained Rice; Lentils; Oil; Chana (Bengal gram;) Mattar; Aata (whole wheat flour;) Maida (refined flour;) Biscuits; Sugar; Salt; Tea; Milk; Noodles and Soya nuggets.

It was then decided that there will be two modes of distribution. "We would call the families of our rehabilitated children at the EWSCF and distribute relief maintaining Coivid-19 protocols. We would also go out to the communities and distribute relief" added Anuja.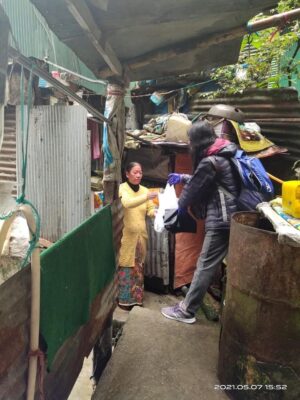 A survey was conducted and vulnerable areas earmarked for distribution. Areas like Jawahar Bustee 1 and Jawahar Bustee 2; areas below the Darjeeling Railway station and other economically backward areas were selected.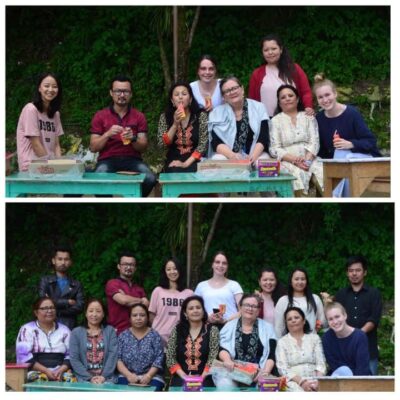 Covid Update 2nd May 2021:
We are ABSOLUTELY BLOWN AWAY with the generosity of people! Donations are flooding in to help us to support our team in Darjeeling in their difficult task of fighting the Covid pandemic that is sweeping through the whole of India. As much as we would love to save all of our beloved India we are focussing all our attention on doing all that we can in our corner of India in Darjeeling.

Our target was to raise €5,000 to help towards our residential childrens homes and also to help towards the 750 families in neighbouring slums (where the families of our day children live). There are approx 3,000 people living in these slums. Thanks to all the wonderful support here in Ireland and our friends abroad we have already exceeded our goals. A wonderful Donor has donated one FULL run, however, the situation is dire and we need you to continue to share this message with your friends and family here and abroad to gather as much support as you can and donate whatever you can afford to: www.idonate.ie/edithwilkins79.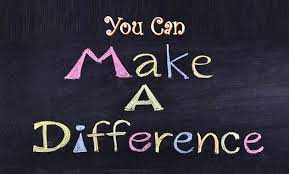 Donate here www.idonate.ie/edithwilkins79
or make a payment via your Online Banking/Revolut/Paypal to:
Edith Wilkins Foundation;
IBAN: IE48AIBK93434821439006;
BIC/SWIFT: AIBKIE2DXXX
AIB Bank, Douglas Road, Cork, Ireland;
Sort Code: 934348; Account No: 21439006
The situation in India is dire and likely to worsen over the coming days and weeks. Yesterday there were reports of 402,000 positive cases.
What your donation can give:
Covid Package:
Medicated body soap; cloth washing powder and soap; hand sanitiser; toothpaste; sanitary towels; floor sanitiser; tissue papers.
Food Package:
Rice; Lentils; Oil; Channa; Matar; Atta; Maida; Biscuits; Sugar; Salt; Tea; Milk; Noodles; Soya.
Each package supports a family for 15 days and we now have one months supply for the slum families and we also have supplies for our residential children's homes.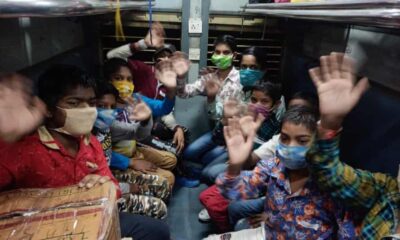 We cannot thank you enough for what you are doing for the children of the Edith Wilkins Street Children Foundation, India. From the bottom of our hearts and from all the children and the teams in Darjeeling and Ireland, THANK YOU!
For as long as people keep supporting and giving towards this fundraiser, we will keep on giving and helping the children and their families in Darjeeling.
Our wonderful team in India is led by Anuja Ghaley & Namrata Sharma and we are so incredibly PROUD of them all!
"From myself (Edith) and the extended team at EWSCFI we want to THANK YOU from the bottom of our hearts"

Edith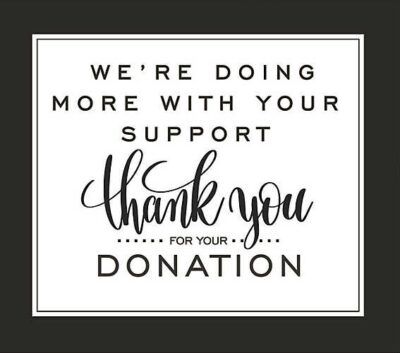 India Covid 19 Appeal May 2021
Carrigaline, Co Cork based charity Edith Wilkins Street Children Foundation India (EWSCFI) is working flat out trying to relieve the horrendous suffering of sick and dying Covid 19 victims – many of them children – in Darjeeling, India and seeking the support of the people of Cork and Ireland.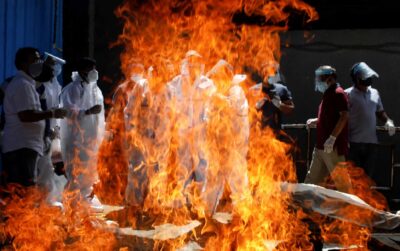 Donations can be made through the registered charity's account at AIB Douglas Road, Cork sort code 934348, account no 21439006. You can also donate online at iDonate.ie or DONATE HERE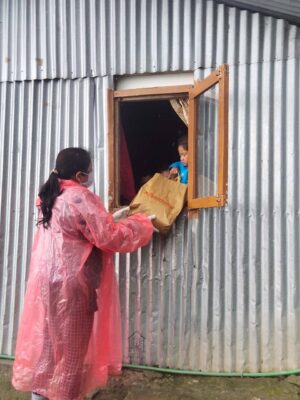 'Imagine if this was the scene outside full-to-the-brim Cork hospitals: people dying on the footpath or in a car or ambulance, desperately awaiting an oxygen supply. Well that's what's happening right now across India and it's getting worse', said chief executive Edith Wilkins.
Thankfully, staff and supporters of EWSCFI are getting food rations, sanitisers, disinfectants and other emergency supplies to families in slums in Darjeeling and its' remote surrounding mountainous terrain.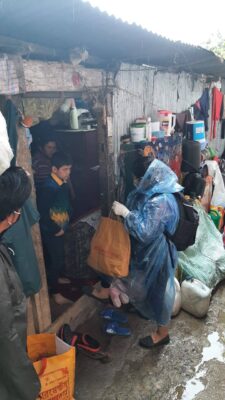 'The second wave of Covid-19 has left India shattered and it's people literally gasping for breath. All resources have exhausted. The country has taken on the picture of one large crematorium, with endless funeral pyres burning round the clock, so much so that the iron girdle framework of the pyres have melted. Even death is no escape with long queues at the gates of burial grounds and crematoria as dead bodies draped in white await last rites,' said Edith.
Daily Covid cases have exceeded 350,000 but it's generally agreed that the national death toll is significantly higher than the reported average of around 2,400 and amazingly, election campaigns and rallies continue in five states – including Darjeeling, West Bengal – despite the worsening pandemic. Highest at risk are children, over ten million of whom aged between 5 and 14 are labourers.
Established in 2003, Edith Wilkins Street Children Foundation India isa not for profit charity providing care and protective support to street children, victims of abuse and sex trafficking, child labourers and other at risk minors. There are more than 200 abandoned street children cared for by the foundation in Darjeeling and well over 2,000 children have been helped to date with shelter, security, medical screening, counselling, education and other services.
The foundationis constantly championing child rights issues, battling child labour and also actively establishing non-formal education centres for child labourers by working in close coordination with central government and state agencies. There's also a voluntary fund raising committee who meet at Unit 4, Drake Centre, Main Street, Carrigaline, Co Cork.
More information at www.edithwilkinsfoundation.org or email edithwilkins54@gmail.com or tel 085 7670499.