Covid-19 pandemic & how we are coping with the challenges it presents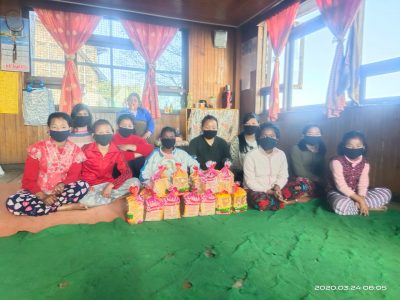 Cooking and mealtimes at the Edith Wilkins Street Children Foundation, India in Darjeeling

Education continues at the Edith Wilkins Street Children Foundation, India in Darjeeling

The Team at the Edith Wilkins Street Children Foundation, India in Darjeeling

The Edith Wilkins Street Children Foundation, India in Darjeeling

Daytime activities at the Edith Wilkins Street Children Foundation, India in Darjeeling

Facilities at the Edith Wilkins Street Children Foundation, India in Darjeeling

Challenging times for the Team at the Edith Wilkins Street Children Foundation, India in Darjeeling
Watch how the girls from the Edith Wilkins Street Children Foundation keep entertained
The Edith Wilkins Street Children Foundation have had to cancel 3 important Fundraising events in the coming weeks due to the challenging times during this Covid-19 pandemic.
This means that the planned income to cover costs such as food for the children and all the running costs of the foundation are now in serious jeopardy – the reality is we rely on this fundraising and all donations to continue. We are running out of money!
We are asking everyone to help in any small way that they can. Please donate what you can today.
The Prime Minister of India, Narendra Modi, locked down the country (about 1.3B people). The predictions for India are dreadful and we need your help.
The local people in Darjeeling are dependent on a daily wage to buy food – there is no/little work now – so no/little food.
At the Foundation, we are concentrating on doing what we can. We are keeping our children safe and well. Getting food and soap etc to them is extremely challenging as our reserves are so low due to lack of fundraising with all the Covid-19 restrictions – so we are appealing to you to help in any way that you can – the smallest donation today will make a huge difference to the lives of these children. You can help.
Please donate what you can today.